The UK Real Estate Market Overview and New Strategic Partnership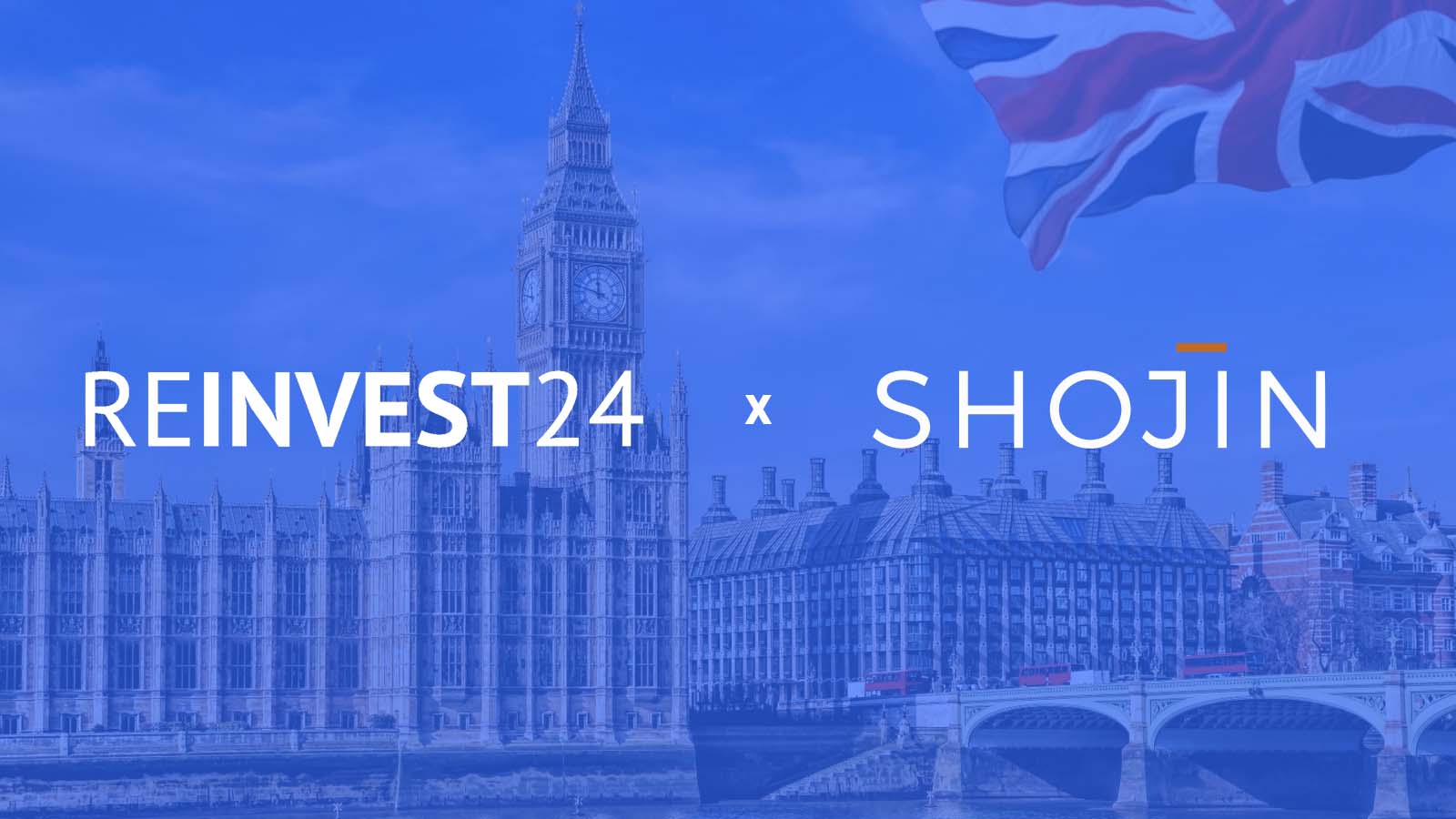 Reading Time:
9
minutes
The UK real estate market has long been a popular destination for global investors, and for good reason. With its strong economy, stable political climate and transparent legal system, it's no surprise that the UK has consistently ranked as one of the top countries for property investments. It's a huge market that offers a lot of opportunities, but extensive expertise and strong local presence is required to find and utilize these opportunities.
Strategic Partnership With Shojin Property Partners
We are delighted to announce our new strategic partnership with Shojin Property Partners, an FCA regulated investment company based in the UK. Shojin has a rich history in real estate development spanning over a decade, and has since evolved into a licensed market participant specializing in originating and structuring institutional-grade real estate investment opportunities in the highly profitable UK market.
Shojin's unique investment approach involves conducting comprehensive due diligence, investing their own capital into projects, providing end-to-end oversight, and sharing profits instead of imposing significant upfront fees. This methodology ensures a perfect alignment of interests and represents a significant advancement over traditional private equity investment models. Furthermore, Shojin assumes primary responsibility for any losses incurred by investors, thereby providing an additional layer of security.
Reinvest24 has enjoyed a fruitful collaboration with Shojin for more than two years through our mutual participation in the AREIP organization alongside other European real estate investment platforms. Drawing on this experience, we are confident that our core values and understandings are closely aligned with those of Shojin's CEO and team members who also serve on the AREIP committee.
Average UK House Prices
The UK real estate market has always been highly sought after both domestically and globally in terms of investment opportunities. As such, it's important to keep an eye on the latest trends and future predictions for this industry. One significant indicator for the UK housing market is the average house price.
Since the 2008 financial crisis, the UK housing market has seen a steady rise in average house prices. According to offical data from the Nationwide, the average house price in the UK was £265,000 as of December 2022. With the recent rate hikes together with double digit inflation, the average prices have seen a slight decline, settling at £258,000 by end of March 2023. The decline has been bigger in the northern part of UK, while the areas around London has been more stable due to high demand.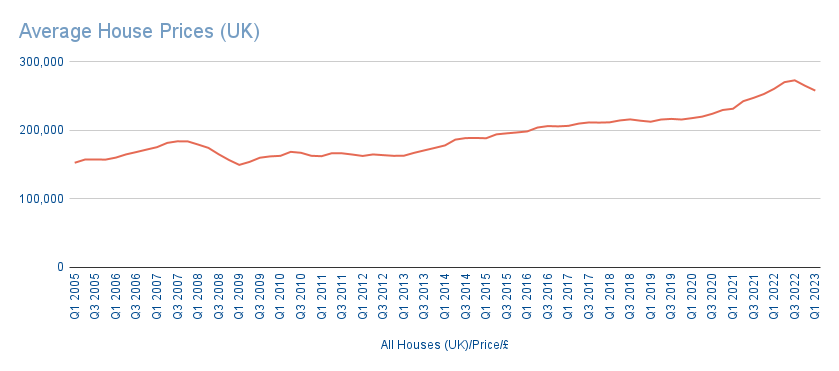 This upward trend in house prices is expected to continue. However, it's worth noting that different regions of the UK may experience different average house price trends. For example, London's housing market is known for being incredibly expensive, with the average house price being much higher than other regions. On the other hand, some areas in the north of the UK have seen more modest average house price increases in recent years.
Overall, the future of the UK housing market is predicted to see ongoing price increases due to various factors like the ones mentioned above. It's a lucrative market for those looking to invest in real estate, but it's important to stay informed and keep an eye on the ever-changing market trends.
Interest Rates and Inflation
Interest rates and inflation are two critical factors that affect the UK real estate market. These factors can have both positive and negative impacts on the market.
Interest rates: The Bank of England has been increasing the interest rates as expected. With the latest 0,5% increase in 2023 June, the interest rate is currently at 5% and it is expected that it will stay in that range until the end of this year. The increasing interest rate has put more pressure on the residential real estate market and mortgages. But this has not had a huge impact on the prices, it just slowed down the real estate market in terms of transactions, with small price fluctuations, depending on the area.
Inflation: Inflation has hit its high of 11.1% in 2022 October, staying slightly above 10% until 2023 March. Now finally the inflation has started to decline after several interest rate hikes, closing the May at 8.7%. It was expected that this scenario will have a big impact on the real estate prices, but the real estate market has demonstrated stability and strength in the current times.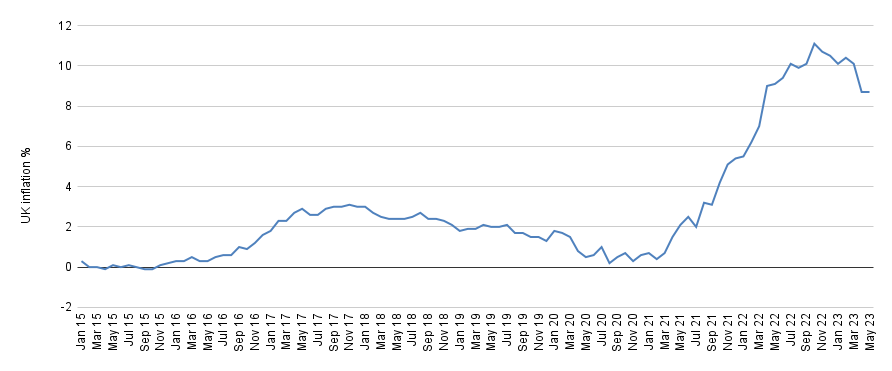 It is expected that both the inflation and the interest rates have peaked by now in the UK. If inflation will continue to decline, the interest rates will follow this trend, allowing the market to continue growth.
Employment and Labor Market
The UK real estate market is heavily dependent on the health of the economy, and employment and labor market trends play a key role in determining demand for commercial and residential properties. In recent years, there has been a significant increase in the number of office-based jobs in the UK, particularly in major cities such as London and Manchester. As a result, large numbers of workers are now looking for high-quality, affordable accommodation.
According to a recent report by the Office for National Statistics, average total pay growth was 5,9% in the period of December 2022 to February 2023. The unemployment rate was 3,8% at the end of February 2023. This suggests that the labor market is strong and demand for housing is likely to remain high. The labor market date is also giving the domestic and international investors the confidence to continue their investments in the UK real estate market.
One important factor to consider is the rise of the gig economy and self-employment. This trend is particularly prevalent among younger workers who are looking for more flexible working arrangements. This could lead to an increased demand for co-working spaces and serviced offices.
It is also worth noting that the UK has a large share of the office workforce employed in the financial and professional services sectors. This means that there is a need for high-quality office space in prime locations, particularly in London.
To capitalize on these trends, developers and investors need to keep a close eye on employment and labor market data to identify key growth areas. They should also focus on creating properties that meet the needs of workers in these industries, including high-quality office and residential accommodation, as well as flexible co-working spaces.
Impact of Technology and Innovations
The UK real estate market is catching up with the latest technological advancements and innovative gadgets which are redefining the way properties are bought and sold. As noted by Deloitte, the real estate industry is starting to realize the benefits that these new technologies and innovations are bringing to the market.
One significant impact of technology on the UK property market is complete digital access. With the emergence of digital platforms like Zoopla, Rightmove, and other property search engines, buyers can view properties from the comfort of their own homes. According to a recent report by Zoopla, online searches for properties were up by 30% YoY, showing the growing preference for digital access. This trend is likely to continue as buyers seek more convenient ways to search for properties.
Another technological advancement that is transforming the UK real estate market is the use of virtual and augmented reality gadgets. These innovative gadgets are enabling buyers to view properties with high precision and accuracy. A recent study by Goldman Sachs revealed that virtual and augmented reality could add value to the real estate sector by reducing site acquisition costs, speeding up the decision-making process and improving customer engagement. This technology is set to revolutionize the way buyers and sellers interact with the property market in the UK.
In the commercial real estate sector, technology is revolutionizing how buildings are being managed and operated. From energy-efficient lighting to smart heating and ventilation systems, innovative technologies are helping to reduce costs and make businesses more sustainable. The recent pandemic has also spurred the adoption of new technologies, such as contactless entry and remote working, which is likely to continue even after the pandemic subsides.
In the residential property market, technology is transforming how people live and work in their homes. Smart home technology is becoming increasingly popular, with 11% of households in the UK having a smart home device. These gadgets can control heating, lighting, security systems, and even kitchen appliances. In the future, we could see more innovative solutions like homes that can generate their energy and manage waste.
The Future of UK Real Estate Investment
The UK real estate market has long been a popular destination for global investors, and for good reason. With its strong economy, stable political climate and transparent legal system, it's no surprise that the UK has consistently ranked as one of the top countries for property investments.
To gain a better understanding of the future of UK real estate, it's important to examine some of the emerging trends in the market. Here are some key areas to watch out for:
Growing demand for residential property: Despite the challenges posed by the COVID-19 pandemic, demand for residential property in the UK has remained strong. With interest rates at historic lows and an increasing number of people looking for larger homes with outdoor space, the demand for residential property is expected to continue rising.
Focus on sustainable property types: Sustainability is becoming an increasingly important factor for property investors. Commercial and residential properties that are energy-efficient and environmentally friendly are likely to become more popular as investors look for long-term assets with lower operating costs.
Increased use of virtual estate agents: Virtual estate agents are becoming more common in the UK, allowing buyers and sellers to complete transactions online without the need for in-person viewings. This trend is likely to continue as buyers become more comfortable with virtual transactions.
Continued growth in the commercial real estate market: The UK remains one of the biggest commercial real estate markets in Europe, with strong demand for office, retail, and warehouse space. This trend is expected to continue as businesses look to expand and grow post-pandemic.
Technology driving innovation: Technology is playing an increasingly important role in real estate, with companies using data analytics and artificial intelligence to make more informed investment decisions. This trend is expected to accelerate as the industry becomes more reliant on technology.
Rise of co-living spaces: Co-living spaces are becoming more popular in the UK, particularly for younger renters who are looking for affordable, flexible accommodation. This trend is expected to continue as co-living providers expand into new markets and diversify their offerings.
Increased investment in affordable housing: The demand for affordable housing in the UK continues to grow, with an increasing number of people struggling to get onto the property ladder. As a result, there is likely to be increased investment in affordable housing projects to meet this demand.
Key Trends to Watch Out For
The UK real estate market has always been a global hotspot for real estate investment. Despite the uncertainties around Brexit and the COVID-19 pandemic, the UK property market remains a lucrative hotspot for both domestic and international investors. However, with the ever-changing economic and political landscape, it is crucial to stay abreast of current and future trends shaping the UK real estate market. Here are four key trends to keep an eye on:
The rise of alternative asset classes: While traditional asset classes such as residential and commercial properties remain popular, there has been a significant rise in alternative asset classes such as student accommodation and build-to-rent (BTR) properties. Investors are increasingly turning towards these asset classes due to their stable income streams and long-term prospects. According to a recent report by Deloitte, "alternative asset classes such as build-to-rent, student accommodation, and retirement living will continue to be seen as an attractive investment opportunity."
Emphasis on sustainability and green energy: With the urgency to tackle climate change, sustainability and green energy are becoming increasingly important in the property industry. The UK Government's Net Zero 2050 target and the introduction of new legislation such as the Minimum Energy Efficiency Standards (MEES) mean that investors and developers need to prioritize sustainability when designing and developing buildings. Properties with high sustainability standards are expected to attract higher prices and rental yields.
Impact of political events and geopolitical risks: Political events such as the Russian conflict with Ukraine and Brexit negotiations can have a significant impact on the UK real estate market. These events can cause uncertainty, resulting in decreased investment and transaction volumes, which in turn can affect property prices. As a recent report by JLL highlighted, "property markets are often sensitive to geopolitical risk…any irritations can affect investor sentiment and the ability to transact."
Technology and innovation drive change: Advancements in technology and innovation are changing the way people live and work, driving change in the real estate market. Smart buildings, virtual property viewings, and blockchain-based property deals are examples of technology-driven changes in the market. A recent report by JLL stated, "investors will need to keep up with technological advances and be open to exploring the opportunities they present, or risk becoming irrelevant".
Conclusion
The UK real estate market has proved to be an attractive destination for investors over the years. With the demand for real estate increasing globally, the UK market is set to continue its growth trajectory. Together with our new strategic partnership, we are confident to enter the UK market and bring institutional-grade real estate investment opportunities to our investors. Shojin Property Partner is a local regulated market participant who has extensive track record for originating and successfully completing real estate investment projects in the UK market. So, whether you're a seasoned investor or a beginner, it's time to take action and get involved in the UK real estate market.