German real estate market overview – sharing economy at its best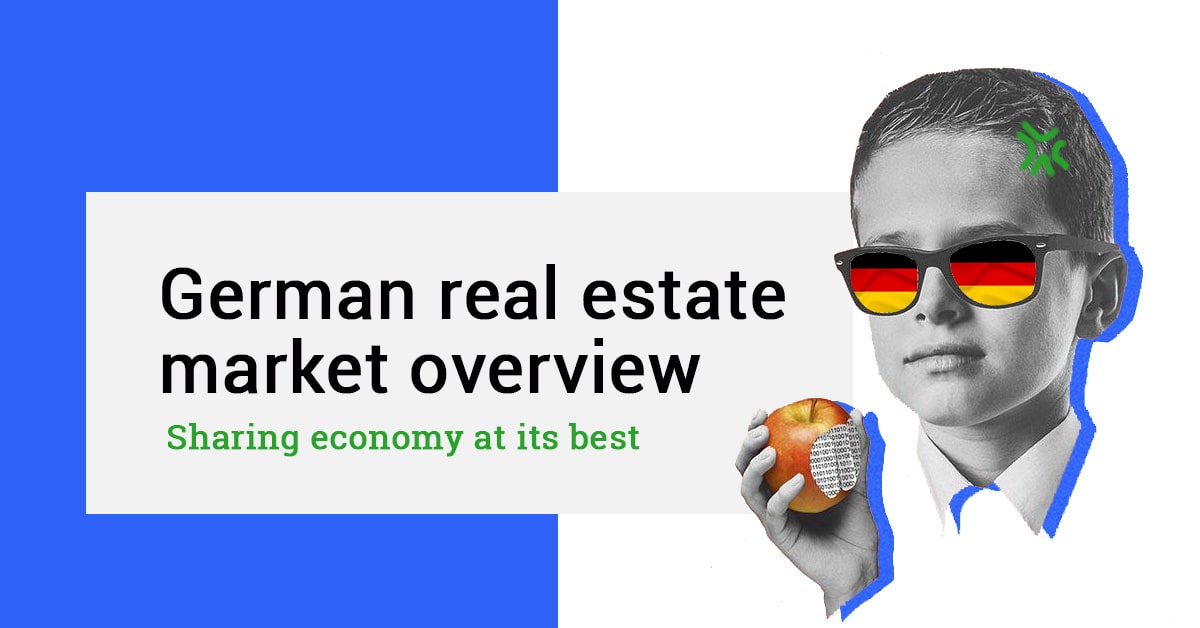 Reading Time:
7
minutes
Last week we published our very first rental project from Germany, thus adding the 5th country for investing in secured real estate projects. We believe You are curious to know more about why we did it and what potential we see in this market. Sit comfortably, as we are about to shed the light on the German real estate market and its peculiarities to take advantage of. 
Ein wundervolles Deutschland – growing economy
For many years in a row, the market is remaining to be stable and even growing, only from time to time facing minimal decreases. We can see this proven in the growing activity in the residential property sector.
The CBRE in its 2021 Real Estate Market Outlook report for Germany said, "Activity in the German residential investment market can be expected to run at an uninterruptedly high level in 2021." Deutsche Bank AG also supports it in its German Property Market Outlook 2021 report: "The cycle is likely to remain intact in 2021 thanks to the low-interest-rate environment, fundamental supply shortage and current undervaluation."
Many industry experts also say that this rise is a delayed response to a long period in which Germany has not built enough. After the mid-1990s there was a substantial drop in housing completions, which was partly caused by changes in the policy, such as a rise in VAT from 3% to 19% in 2007, and the abolition of owner purchase subsidies.
The one is clear – the housing supply is not keeping up with the demand. Dwelling permits increased 3.8% y-o-y to 360,578 units in 2019 and by another 2.2% to 368,400 units in 2020, following y-o-y declines of 0.3% in 2018 and 7.3% in 2017, according to Destatis – insufficient to meet surging demand. According to HDB President Thomas Bauer, The country needs to build around 400,000 flats annually to prevent housing shortages in cities.
Better rent than buy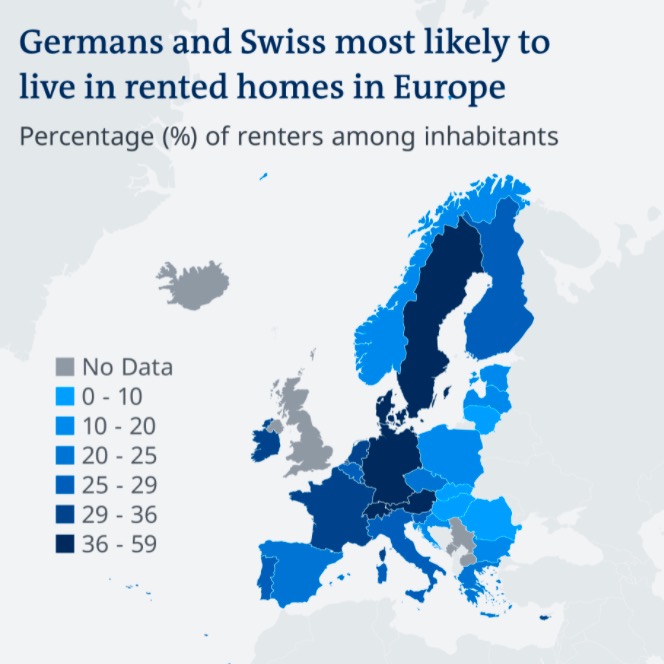 There are many reasons why people living in Germany give preference to renting, rather than owning their own apartments.
Of course, homeownership brings great benefits, such as a sense of stability, belonging to a community, and pride of ownership. It is common for Germans not to buy homes, but rent. Buying your own property requires a lot of capital. And Germans have a better idea of its use, as the majority are avid investors. They give preference to investing their savings in more liquid asset classes, thus profiting more. It is also common for Germans not to buy homes but rent them. Maybe this is the reason why Germany is the country with the best financial education and a high number of private investors. 
Besides, the overall cost of homeownership tends to be higher than the overall cost of renting. That is true even if the monthly mortgage payment is similar to (or lower than) the monthly rent.
All roads lead to Berlin
Taking into account that our first project is located near Berlin, let's now look at what is going on in this particular region.
Germany's capital city is the 7th most inhabited urban area in the European Union. The young population and growing reputation as a European creative and media hub boost the city's residential sector. It hosts several world-known universities, museums, entertainment venues and other creative industries. But again we see the same trend – the demand is exceeding supply. 
One of the most stressful things about moving to Berlin or within the city is flat-hunting. Not only is there a lack of homes, but new rental contracts are often ridiculously high – or tenants should pay too much through a sublet because they can't get their own place.
According to JLL's forecast, Berlin requires about 18,500 new apartments annually until 2030 to address the severe housing shortage in the city. And the introduction of a rent price cap (Berliner Mietendeckel) last year is expected to exacerbate the situation.
As per the price, we observe 2 trends overall. The rental segment of 5 – 8 EUR/m² has been getting smaller and smaller with a declining overall volume for years, while the rental segment above 14 EUR/m² is taking up more and more space.
Speaking about the rent price cap, this is something that needs special attention.
The Berlin rent cap explained
The Berlin rent cap has been one of the most debated laws in Germany over the past few years.
On January 30, 2020, Berlin adopted a law to freeze rents in the city, which came into force on February 23, 2020. The rent cap covers all residential space completed before January 1, 2014, with rents frozen at the level of the rent on June 18, 2019. The law prohibits rent increases until 2021 with monthly maximum rent fixed between 3.92€ and 9.8€ per square metre, depending on the year of completion and the standard of the residential property. Rent increases of 1.3% per year should be permitted starting 2022. The goal of this law was to reduce the burden of housing costs for many and overall make housing more affordable.
Besides, many cities around the world have some kind of rent control measures in place. And theoretically, everything should be working just fine. However, Berlin's rent cap law became unique. It meant that rents for 90% of Berlin's apartments were frozen for 5 years at the level they were at in June 2019. New rental contracts could not be above that level, and as of November 2020, any existing rents that were still above that level had to be reduced.
In addition, after more than a year of reduced rent costs, Germany's highest court announced in April that the Mietendeckel was unlawful, resulting in tens of thousands of people being plunged into debt and facing rent increases in the middle of Germany's third wave of the pandemic.
Undoubtedly, the current status is not the most pleasant, however, as You know already, every crisis comes with an opportunity. New changes in the law already triggered many people to reconsider their accommodation and look for rental opportunities outside Berlin. And this gives the potential for growth to cities like Eberswalde.
We asked the locals
The majority of our investors come from Germany. Therefore we approached some of them and asked about their feelings towards their local market. And here are some of the answers:
1. What is your opinion of the German real estate market?
"The market is booming. Prices have risen considerably in the last few years." – Claus Lehmann, P2P-Banking
"For a long time, the real estate market in Germany was comparatively favourably valued compared to other countries. However, this situation has changed. Prices have been rising continuously for around 10 years. Germany has many very different regions. This makes this market very challenging. There are boom regions and regions with rather shrinking populations. In my opinion, the market is quite stable and quite solidly financed." – Dennis Uliczka, Capital-Insider
"In large parts, I think the real estate market in Germany is overpriced and overregulated." – Luis Pazos, Nurbaresistwahres
"The German real estate market is certainly not easy. For example, rental yields in all "A" cities have fallen massively due to the significant increases in property prices. In some cases, yields of barely 3% are still achievable. In addition, there is the country-city and regional transformation. Some regions continue to experience outward migration, others inward migration. And the cities are also seeing more in-migration, while the countryside is shrinking. In other words, a property in the wrong region or in the countryside has a higher risk of falling prices. And of course also in terms of finding new tenants. In addition, one must not forget that there is very good tenant protection in Germany. On the other hand, there is the belief in German "Betongold" (concrete gold)." – Thomas Butz, P2P-Game
"From the investor side, it looks more "near" & "familiar" than investing in Real Estate projects abroad. It is also nice to see that projects in Germany have a similar interest rate to projects in the Baltics. " – Lars Wrobbel, Passives Einkommen Mit P2P
2. What do you think about the Berlin rental cap?
"I don't think it's a good idea to cap rents directly, because that would put the brakes on housing construction and further investment. A rent brake, on the other hand, I think is acceptable and sometimes even appropriate to limit speculation at the expense of tenants. Similar practises happens in Hamburg, for example. This would also allow landlords and housing associations to calculate sensibly." – Thomas Butz.
"Personally, I think it is the wrong way to address the problem. It will only lead to fewer new houses being built thereby intensifying the scarceness instead of solving the problem." – Claus Lehmann.
"In my view, it would make more sense to focus on other solutions to the housing shortage in Berlin and other cities: More supply of affordable housing. It would make sense to provide more support for property developers, to build more apartments and also to revitalize existing empty properties. And approval procedures should also be accelerated significantly. Better framework conditions can solve many problems in this case." – Dennis Uliczka.
3. Are there any insights related, you would like to share?
"In Germany, the surrounding areas of larger cities are becoming increasingly interesting (the so-called 'Speckgürtel' in German). Here, prices rise because many people now have more opportunities to work remotely and live outside the city, where it is cheaper. In addition, you get more living space for less money. In smaller cities around Berlin, Hamburg, Stuttgart or Munich, to name a few examples, we can observe these effects. By the way, sometimes the settlement of just one company is enough. And a region and its real estate market booms. We may soon see this effect when Tesla opens its factory in Grünheide (Brandenburg) near Berlin." – Dennis Uliczka.
"A big part of my portfolio contains Real Estate, but I am not owning a single one and also don't plan to change it. Like loans in P2P, I invest in big REITs and diversify my Real Estate part into thousands of different pieces. In general, I see Real Estate is a great tool to generate a stable and steady income." – Lars Wrobbel.
"I prefer to invest in many different properties in order to spread my risk massively. I prefer to make many smaller investments rather than one large one, where I then bear a higher cluster risk. That's why I think the approach taken by Reinvest24 is very good." – Thomas Butz.
Coming back to Reinvest24 plans
We were looking in the direction of the German real estate market for quite a long time. With Germany, It took us over half a year to negotiate our first project and agree on the terms. To be honest, Germany always was one of our main countries to expand our operations to, but we were waiting for the right time to come. At the moment, we have a local representative, who will arrange the project's legal part and manage the project itself. Apart from that, we are looking forward to finalizing the establishment of our international branch in Germany. Our goal is to be fully compliant with local regulation, become closer to our german investors and maintain the same outstanding quality of the projects offered.