Success story: All Majaka properties exited with average profit of 14.24% per annum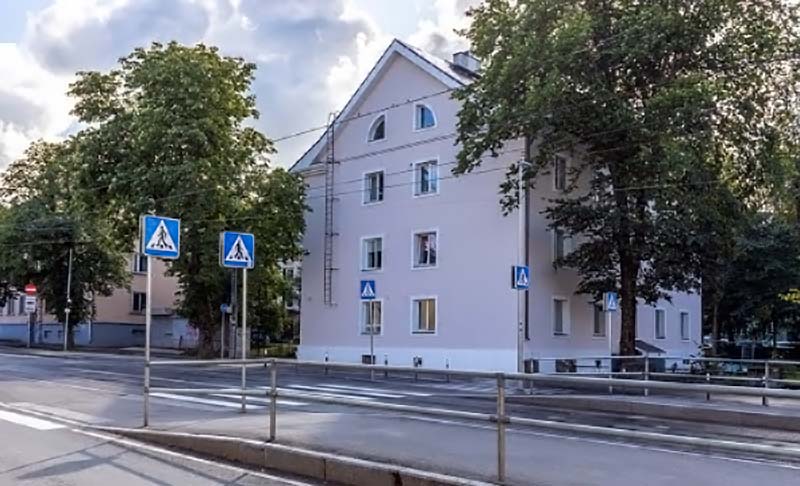 Reading Time:
5
minutes
Majaka 54 was the first development project of Reinvest24. The development was conducted by our own real estate team. We built 2 additional floors on top of 2 floor apartment building. All together there were 5 parts of this project on Reinvest24 platform, one of them were divided into 2 separate projects during the payout. Despite the challanges we had, implementing this project all the projects have been exited successfully and the repayments with an average of 14.24% annual income has been paid out.
The start
The story of Majaka 54 began in late 2018 when Reinvest24 team found an old building in a very bad condition but in a very promising location in the city of Tallinn.
The third and fourth floors were empty shells and required a lot of construction as well as legal work to be done in order to achieve full compliance with the City Hall. The aforementioned has allowed us to purchase the property way under its market value, thus securing great profits for our investors. We made an agreement with the main contractor, to start the construction works before they receive a payment.
Within just a few weeks time the project planning was made, the construction permit was renewed by the city hall and we began with the construction works. Brand new walls, windows, ceilings, floors were in place in just a few months time. We moved on to installing the new electric cables and piping system. The new energy efficient heating system was installed.
The final stage
Once we had finished the inside construction works, we moved on to the building's facade and the roof. Not only did we improve its visual appearance but we also upgraded the technical parameters of it. An additional layer of isolation materials was added, making the whole building more energy efficient.
Nothing extremely crazy or lavish about it, but still charming and comfortable – perfect for showing off the power of its great location and the breath of history kept in the walls.
After 10 months of hard work, soviet house transformed into a fresh and modern property. Every detail was carefully selected and quality crafted. Highlights include:
Full interior finishing works;
New electrical wiring and water piping;
New kitchen and bath appliances;
Brand new furniture.
Exiting the projects
Now that the project was fully finished it was time to sell the apartments. We sold the first 2 apartments quite fast and everything seemed to go as planned. But as they were big 4 room apartments and we had 4 of them in the same building, with a similar planning, the selling process slowed down. In the beginning of the year we had a lot of interested buyers coming to see them, but we were not able to finalize the sale before the COVID19 pandemic situation escalated. Estonia announced lockdown and everybody sat paralyzed at home, waiting for the indefinite future. But we managed to find a way to sort it out.
The apartment nr. 12 was the first apartment that was sold in Majaka 54 building. This development project promised our investors 14% annual returns, which was paid out in full together with the principal amount.
The apartment nr. 11 was the second apartment that was sold in Majaka 54 building, about month after the sale and repayment of the first one. This development projects promised our investors 15% annual returns, which was paid out in full together with principal amount.
As the apartments were quite large, through 2 floors, 4 rooms with a total area of ~100sqm, and both floors had everything necessary for living (bathroom, kitchen etc.), we decided the divide the apartments into 2 seperate units. It required quite a lot of legal work, but we were confident that it will speed up the selling process as the market was a lot more active for 2 room apartments. After the legal work was done, we were able to sell both of the units in apartment nr. 10 within just 1 month and it was during the time of COVID19 lockdown! This development project promised our investors 13% annual returns, which was paid out in full together with the principal amount.
The apartment nr. 9 was the last development project in this building and we had 2 units left to sell. The unti 1 on the first floor was sold first the repayments were made straight after the original project was divided into 2 seperate prorjects. This project promised our investors 14% annual returns, which was paid out in full together with the principal amount.
The second floor unit of apartment nr. 9 was the last one to be sold. It did not take long after the first unit was sold. Just like the unit 1, this project promised our investors 14% annual returns, which was paid out in full together with the principal amount.
This was the only rental project in this building. The property had 2 units and due to its location it worked well for short-term rent. We used a service provider who was managing the day-by-day rent and paid a fixed 8% to our investors. 10 rental payouts were made and everything was going well until February 2020. The short-term rental market got a big hit from the lockdown, which made the service provider to seize the operations. Renting the unit long-term would have made the selling process difficult. Since we were seeing a lot of demand for smaller units in this building we decided to put our full focus on selling them. It did take some time to get it finalized, but as of today, the profits from the sale have been distributed to investors. All together this property earned our investors 15.2% per annum.
Lessons learned
Investment risks
With every investment, there are always some risks involved and it is important to acknowledge it and evaluate them. The good thing about real estate investments is that no matter how challenging the project is or how bad the circumstances get, you can still get through them without harming investors funds and income. Which is not the case with loan originators who are having difficulties. The recent pandemic situation has proven that point quite well, and in many cases the recovery is unlikely.
The developer
The key factor for a successful and timely executed development project is the experienced developer. Professional team with great enthusiasm and ambitions might not always be enough. A developer with a proven track record and a capable management team is what it takes to complete the project successfully. Risk is something that we take very seriously at Reinvest24 and that is why we found an experienced construction company with experience on different markets and building partnerships with them.
Short-term rentals
From financial point of view it does not make any sense to operate just 1 or 2 units in one location. To optimize the costs and maximize the profits, it is essential to have more units to take care of in a single location, or at least very close to each other. Even if you are working with service providers, you will be able to agree on better terms and have more efficient operations and thus profitability.
Wrap-up
What does not kill you, makes you stronger, right? We can say that this has been the case with this project. It was a great experience for our team and there was a lot we learned from it and making adjustments to future projects.