Reinvest24 2nd anniversary overview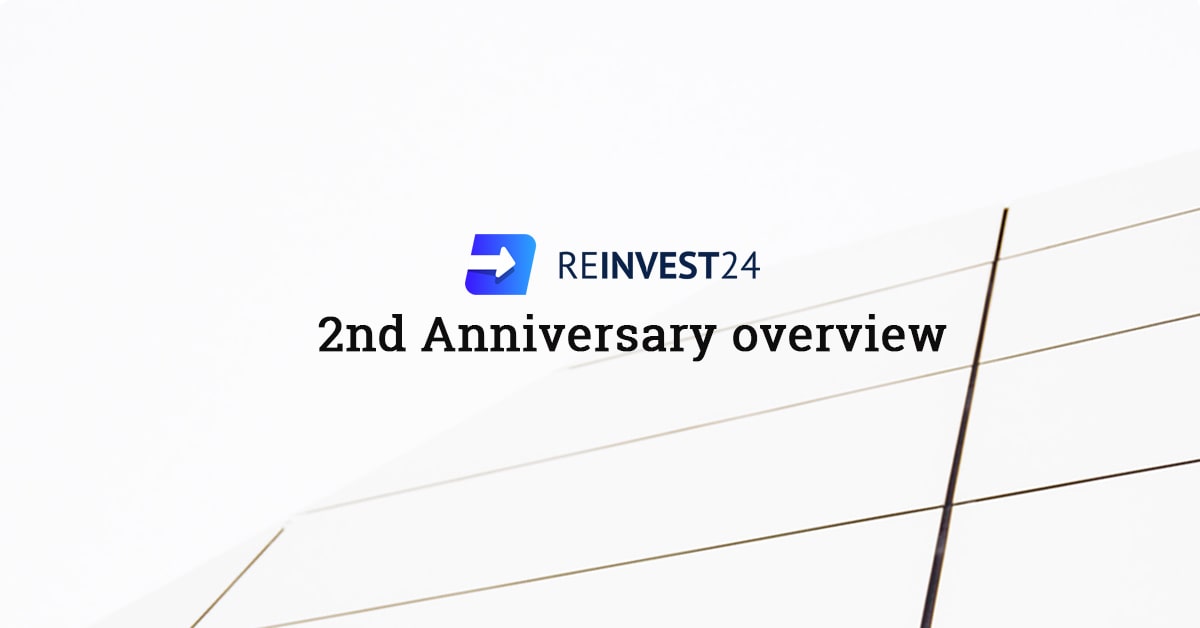 Reading Time:
4
minutes
Another year – another reason to be proud of!
On 7th May, 2020, Reinvest24 becomes 2 years old. It was a great journey for us, but so much more is yet to come. We see this milestone as a great checkpoint where one chapter closes and the new one begins.
In these turbulent times we would like to be more than ever closer to our community. Therefore today's blog post is the reflection of what we did, what we achieved and what is still ahead.
Reinvest24 in figures
If we talk about numbers, then during those 2 years REINVEST24 has achieved following: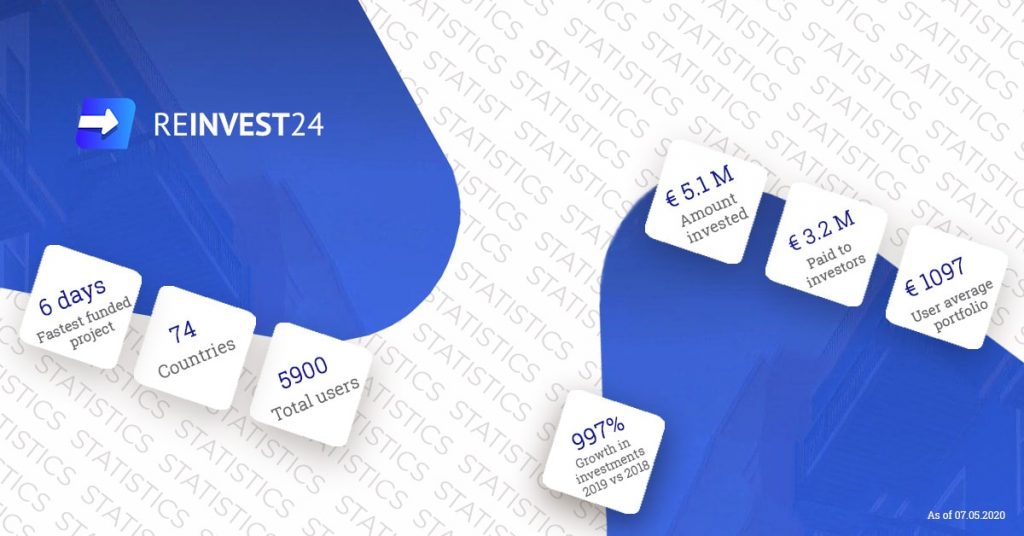 Property portfolio
When it comes to investing in real estate, we are conservative on providing only the most sustainable and secured deals on the table. As of today, we published 15 property projects in a total amount of € 5.6m.
Currently, we have 2 commercial real estate properties for investing. One is an office space property, located in the highly valued area next to the sea, yielding 7.40% per annum and with expected capital growth of 5.80%. It is important to mention that rental agreement is already signed, and COVID-19 outbreak does not impact the monthly dividend flow. 
The second property available for p2p investments is a Modern Office project, with a total yield of 7.14% and 5.80% of expected capital growth. Both equities are based in a demand-growing area.
In the near future, we are expecting to grow the geography of our portfolio and offer you property investing opportunities from more countries. We have been keeping our eye on the Latvian and Lithuanian real estate markets and also visited some properties already. Within summer 2020 we are looking forward to listing a property from both of these countries, to cover the whole Baltics with our investment projects.
Principal Repayments
Our trusted team members have successfully exited 7 projects, including commercial and residential properties in Tallinn. The Reivest24 team was able to generate 16,44% yield from the exited properties on average. As of today, all our investors have already received their share of the profits, paid out directly to their accounts.
Some buildings were in a shabby condition, but we were not afraid to renovate them, thus helping equities to become one of the most attractive buildings in the area. And as hard work pays – some of them were sold to well-known development companies and made a healthy profit.
Due to the currently existing worldwide pandemic, some additional exits were postponed. But nevertheless, we are planning to conduct more exits in the upcoming months, as we have been working on the selling process for some period already. Besides, all of our rental properties continue to generate accrued monthly interests for our investors.
It is never too late to start building your secure real estate portfolio. Use our anniversary gift to you, invest at least € 500 on Reinvest24 platform deals and receive 2% cashback. Read more detailed information here.
The latest platform updates
Since the middle of March, the team of Reinvest24 has been operating from home, continuing to work on fullness, delivering the best service and support to our investors. We are an online business and we are fully functional even if this lockdown remains for a longer period. Read a more detailed overview of the COVID-19 situation in this blog post.
Taking into account the latest news in the alternative investments industry, we prepared the guide in which we stressed the key points, that should be taken into account, in order to prevent investors from being scammed. The main purpose of it is to increase the level of knowledge among investors and save You from major money losses.
Additionally, we gathered the most popular questions on our social media channels and prepared Q&A video where our CEO Tanel Orro checked up on the secondary market development status, explained why we have a withdrawal minimum and many more. Watch it here now.
Future developments
When gazing into the near future, the first to come development will be the long-awaited secondary market. This important missing piece from the puzzle will complete the Reinvest24 concept and give the users the full potential of our platform.
Additionally, our new clients will experience an improved registration process as we are looking forward to implementing a Two-factor authentication process. Your information security will always be one of our top priorities. Remember that!
When it comes to regulation, we are closely following the latest p2p industry updates in terms of implementation of the Crowdfunding license in Estonia. New regulations will come in force in 2021 and we will be among the first ones to apply for it. While the harmonized laws are on their way, we are considering other options. One of them would be an Alternative fund licence. This will make the work of the platform more efficient and will protect our investors.
Apart from that, we expect to launch our loyalty program with attractive offers for beginners and experienced real estate investors.
Opportunities on the market
We truly believe that rental properties are one of the most sustainable investment products and have less impact throughout the market cycles. Our team is constantly looking for new real estate properties on the market and we expect to publish new investment opportunities in a very near future. But as stated many times before, at Reinvest24 we choose quality over quantity when it comes to investment projects that we offer to our users.
Despite the current economic situation, we are looking very promising in the future. We believe this situation may give an opportunity to find better properties that were not on the market during the high-growth times.
We believe that the future for the crowdfunding industry looks bright, even despite the recent challenges. Demand for secured investment products continues to grow. And REINVEST24 is at the forefront of building new, sustainable investment opportunities for our investors all around the globe.
Reflecting on the past, I thank all our employees, investors, partners and friends for your continued commitment to Reinvest24. We hear Your suggestions and are constantly working on improving Your investment experience. Today we are ready to conquer greater mountains and take You with us into this incredible journey towards financial freedom.

Tanel Orro
CEO at Reinvest24