Reinvest24 investors survey 2022- The trust and portfolio size increase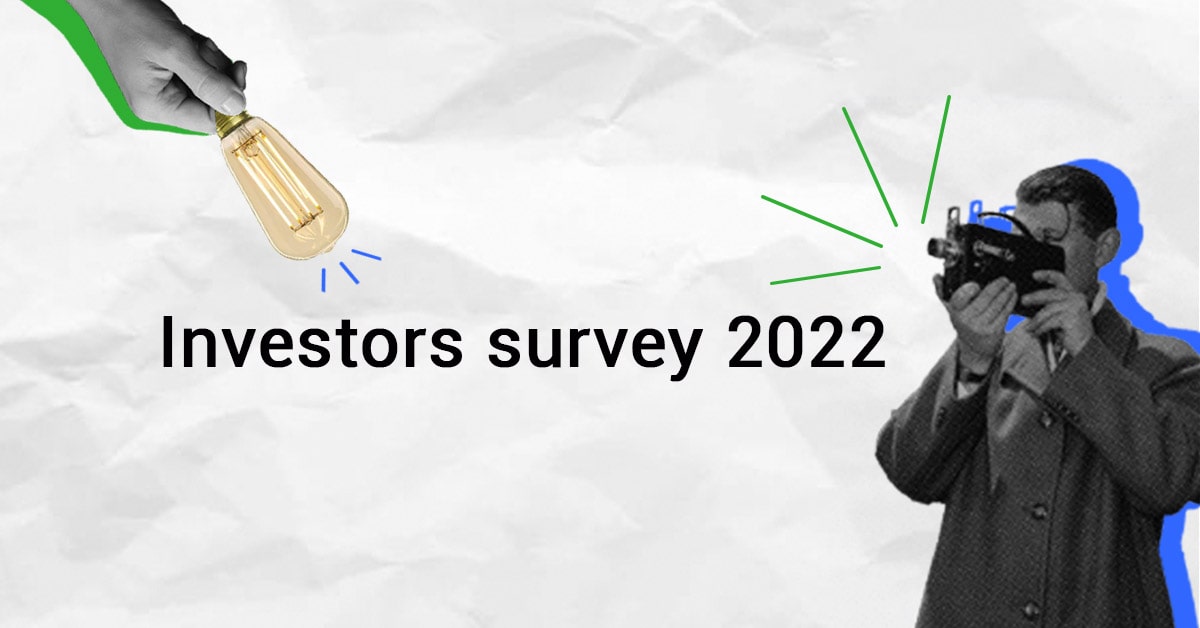 Reading Time:
5
minutes
At the beginning of this year, we at Reinvest24 were grateful to initiate a dialogue with our investors to identify their preferences and measure the sentiment towards the platform. For this purpose, we conducted the biggest investors survey ever made at Reinvest24 and analyzed the data received. Today, we are happy to share the main insights with our community, and share the roadmap of the upcoming developments.
Key insights
"Stable and regular payouts", "High performance" and "0% default rate" – are 3 main factors why investors choose Reinvest24.
The trust towards Reinvest24 is growing rapidly. 52.8% of investors plan to increase their investment portfolio size in the next 12 months.
The majority of respondents (45.1%) emphasizes that the quality of Reinvest24 projects is better than on other platforms. So is the return on investments, as of 53.5% investors.
How did we conduct the survey?
In total, we asked 26 questions, covering our projects, platform's usability, our communication, investors' desired improvements and their overall investment plans. It was possible to choose more than 1 answer and due to that, for some of the questions, the answers exceeds 100%. Investors demonstrated a very high response rate, which indicates that they are eagerly involved in the platform's further development.

The majority of surveyed investors (38%) were 35-44 years old and the top 5 countries were Germany, Netherlands, Estonia, Spain and France. 87.7% of surveyed stated to have an experience of investing in crowdlending platforms, which proves that data received will contribute greatly to our overview. 
Identifying the main values
As one of the first questions, we asked to name the main reasons why they have joined Reinvest24. More than half of the respondents answered that "Stable and regular payouts" is something they were looking for in the first place. The second and third most popular answers were "High performance" and "0% default rate". Indeed, all 3 answers are the main quality pillars of Reinvest24, as our projects show one of the highest performances in the market, yet maintaining a 0% of default rate. A zero default means that none of our projects went into default, nor lost the principal invested.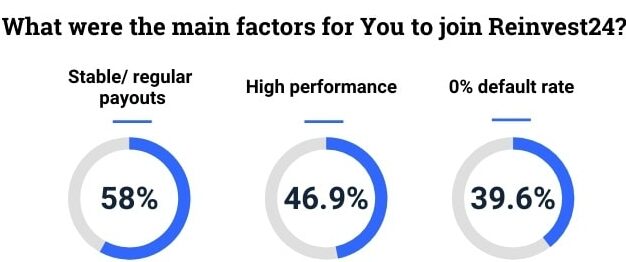 When it comes to the most important factors when choosing the project to invest in, 75.3% of investors seek higher performance first. For 58% of surveyed, the investment type is significant and for 47.8% – the length of the project. Apart from that, they also look at the country of the project in order to maintain a well-diversified portfolio.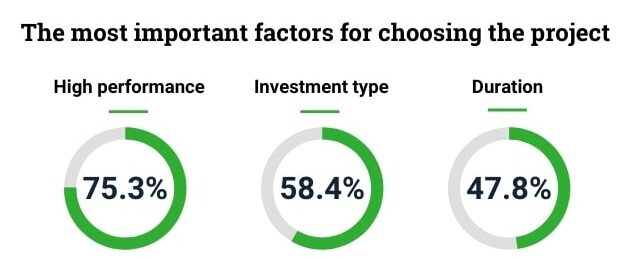 Speaking about the countries, we also found out that half of the respondents would like to see more projects from Western Europe. We were pleased to get such a response, as it proves that we are on the right expansion path, as this week we introduced a new market for investments – Switzerland. With that being said, now Reinvest24 offers projects from 2 Western European countries – Germany and Switzerland. Aside from Western countries, 50.5% of investors would like to invest in Baltic countries and 44% in Scandinavia.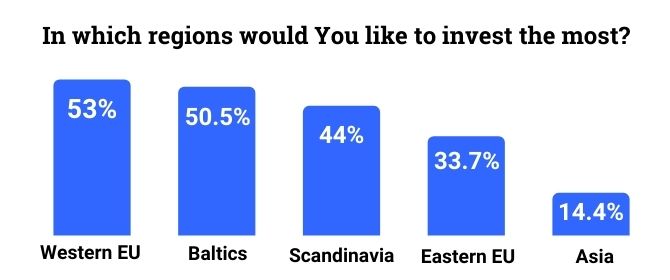 The trust and investment portfolio size increase
After identifying the preference of our investors, we were curious to get more insights into their investment portfolio size. The biggest part of surveyed investors has a portfolio up to 5000 EUR. After diving deeper, we identified that the majority of them are our new investors. We see the trend that new investors start small and increase their portfolios over 1 year.
In fact, our already experienced investors – the ones that invested with Reinvest24 for more than 2 years (22.4%) – have bigger portfolios. Their portfolio sizes vary from 5001 EUR to 500 000 EUR.
Also, a compelling majority of investors stated that they are definitely planning to increase their investment portfolio size in the next 12 months, while only a minority (4.6%) are not planning to increase but maintain the same level.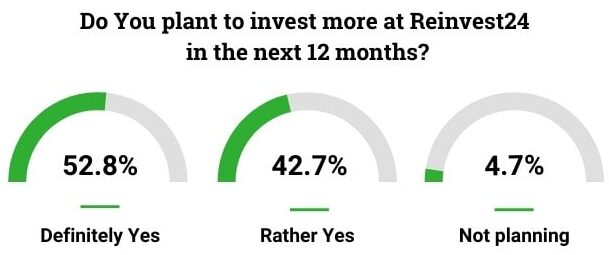 Compared to others, the quality of projects is better
Taking into account that the majority of our investors are experienced with crowdlending platforms, we were curious to know how they evaluate Reinvest24, in comparison to others.
One of the most interesting insights was to find out that half of our investors say that the quality of our projects is better than on other platforms. The other half points out that their Reinvest24 return on investments is better than anywhere else.
Since the very beginning, we have always been very conservative in terms of what projects we publish on the platform. In fact, our broad track record of successfully exited projects proves this statement. Therefore we are extremely happy to receive such observations from investors.
Measuring investors satisfaction
In order to deep dive into polishing the platform, we would first like to identify the things that we are already good at. When asking how satisfied our investors are, we identified that majority is satisfied, either very satisfied.
We also asked to specify the things that investors are the most content with. 48% admitted that they are satisfied with our overall investment offers. Another 44.3% emphasized that they are very pleased with how simple it is to deposit and withdraw. In addition, half of the investors are happy with our geographical exposure, the availability of information and project updates.
Also, according to our NPS (Net Promoters Score), investors are very loyal. Besides, they are quite eager to recommend Reinvest24 to their friends, family, and business partners.
What do Reinvest24 investors want the most?
Reinvest24 is constantly improving our services and listening to the needs of investors. In order to identify the scope of developments, we asked to name the features investors would like to see the most.
As per 45.8% of respondents, the most awaited Reinvest24 feature is the Loyalty program. The second most requested thing is the implementation of the Statistics page (41.9%).
While we were analyzing the survey's data, our IT team was already working on one of the mentioned features. And today we are happy to announce that our Statistic page is live! From now on, our investors can access the up to date information about our projects and investors. We are pleased to react fast and prove the trust given to us again.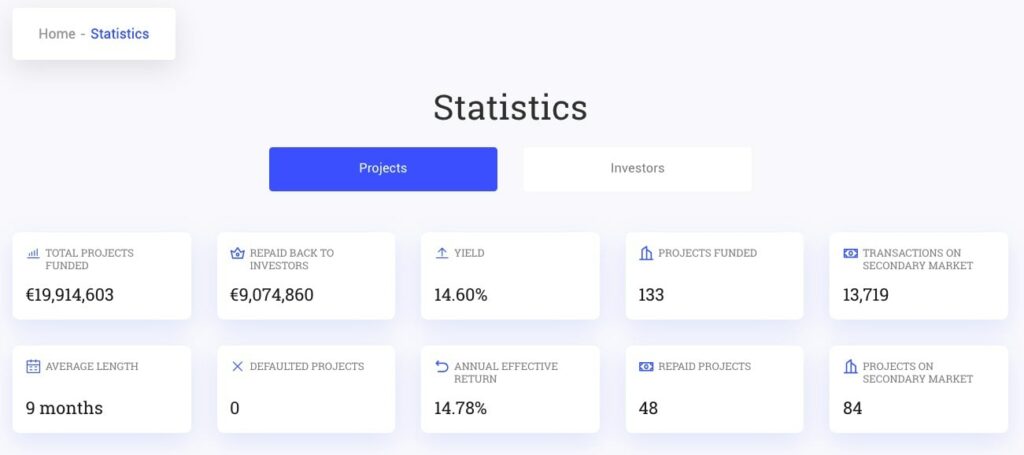 Apart from that, investors want an Auto Invest (39%), other types of projects (25.3%) and 2 Factor Authentication (10.7%).
All the aforementioned features are planned to be implemented during this year. As per the new types of projects, we are already exploring different options and soon we will introduce new revolutionary products. Stay tuned and make sure to follow us on our social media channels or join the official Reinvest24 chat in Telegram and get the latest updates faster.
Final note
Alexander Graham Bell once said: "Great discoveries and improvements invariably involve the cooperation of many minds."
We thank our investor's community for participating in the survey!