Spanish Real Estate Market overview: Trends to expect in 2021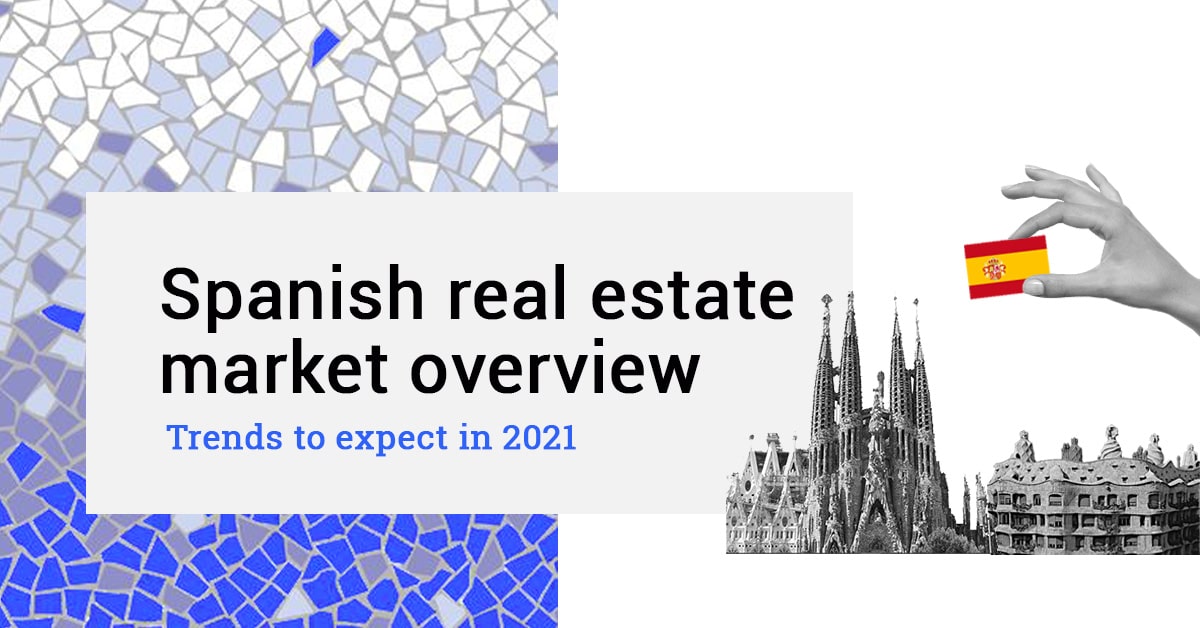 Reading Time:
5
minutes
Over centuries, the intriguing charm of Spain has stolen many hearts. Its beautiful beaches, impressive architecture, delicious food, famous landmarks and very rich culture, makes this country an appealing destination.
So is Spain's real estate market. However, It is always important to learn more about the market where You plan to make long-term investments. In this article, we briefly share the highlights of our insights on the current market situation, the latest statistics available and trends for the coming year.
COVID -19 and its economic impact
It is not a secret that the recent health crisis left an impressive consequence on all of the world. And Spain is not an exception, as tourism is one of the key drivers of Spain's economy – 12.4% of GDP. In fact, Spain got the biggest hit among the countries in the eurozone with punishing figures for GDP last year (see the screenshot below).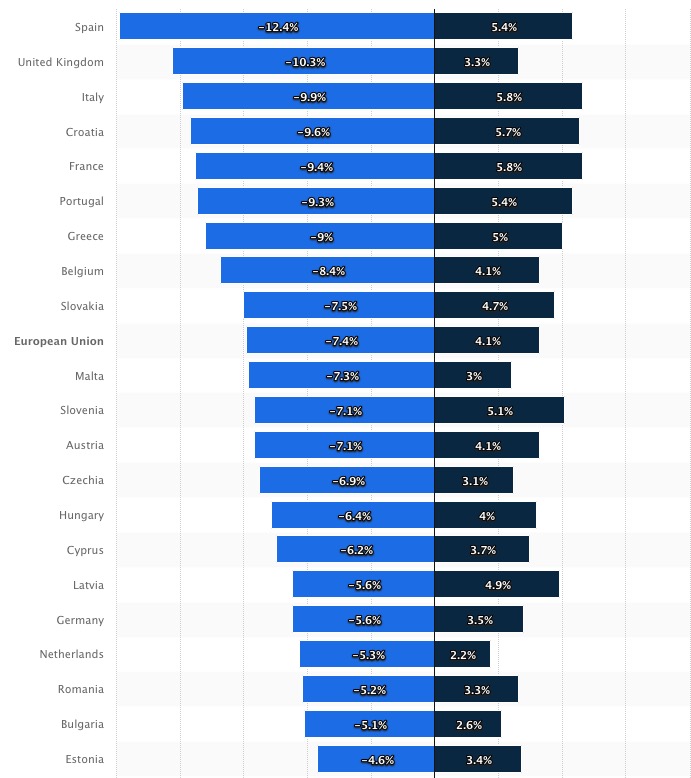 Also, take a look at this panel of Economic indicators.
As of now, Spain can be considered to be in a recession stage and it is likely expected that it will not return to pre-crisis levels until the end of 2022. However, Caixa Bank researchers state that despite the seriousness of the situation and the high uncertainty regarding how the pandemic will develop, the sector is supported by a much stronger foundation than in the previous crisis of 2008. Before the outbreak of the COVID-19, the financial situation of Spanish households and companies in the sector was healthier than back in 2008. Moreover, the number of new properties being built was not excessive in relation to the demographic trend. Banks also have much better solvency and liquidity ratios. All these factors make experts more confident in the sector's ability to weather the current crisis.
When it comes to investing, the recession always comes with opportunities. The best time to buy real-estate is when there is an uncertainty on the market and there are not so many buyers. In this article we shared more insight on why you should use the financial crisis situation for your convenience in terms of wealth building.
Demand for the properties
Regarding domestic demand, the APCE (Association of Promoters and Constructors in Spain) has already put forward a demand to the Government, together with other incentives, for the reduction of VAT on newly built property from an average 10% in most areas to 4%. It is expected that those actions will positively improve the demand in the real estate market.
As per the past year's sales transactions, you can see from the chart above, which compares sales with last year, 2020 got off to a modest start before plunging in the lockdown months of March and April, then started to recover in May. Pent up demand ensured sales growth in the third quarter, but the figures for October, with sales below last year, suggest that the bounce is over. Year-to-date (10 months) the home sales are about 20% smaller than they were in 2019, with the difference built up in March-May 2020.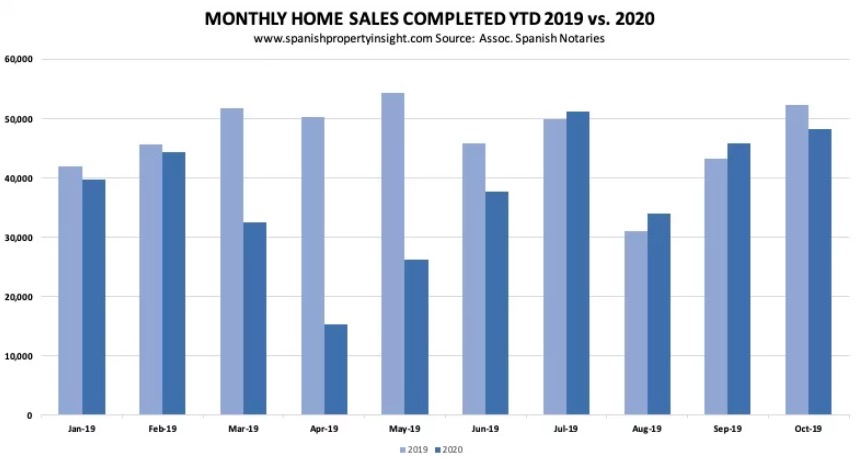 Construction industry in 2020
According to Idealista, during last year, the construction industry suffered enormous economic losses due to the work stoppage. Although the stoppage lasted only a short period of time, once working activity resumed, production was cut by 20%. This created a deficit of supply with demand jumping back to previous year levels.
Also, the job losses in the sector impacted the workers in the construction industry in Spain. It has decreased by 65% in relation to the same period in the previous 2 years. The cities most affected by this situation are Madrid, Barcelona, Malaga and Alicante as they are the ones with the highest construction activity in the country.
Price bubble in real-estate
According to the data, provided by Statista in November 2020, the real estate bubble index arranges Spain in a bubble risk-free zone. It means that Spain's real estate market is not overheated and still has room to grow in terms of prices. Also, the price rise is stable and people are not making emotional purchases of the property. For example, Madrid's index is 0.43, which is below the index median score of 1.5.
Trends to expect
As per the trends to expect, Colliers Spain states that in 2021 build-to-rent will be an investment opportunity in provincial capitals and other consolidated urban areas with demand. With that being said, Madrid remains to be the most dynamic housing market. Whilst Barcelona is suffering the negative effects of government intervention, making Valencia city an attractive alternative to Barcelona for investors.
Also, S&P estimates a rapid rise in house prices in Spain which will reach 1.8% already in 2021. It's worth noting that a 1.4% price drop is nowhere near the plummeting rates seen in Spain in 2014 during the height of the previous financial crisis, where properties cost 35% less on average than in 2008.
By 2022, Standard & Poor's expects a sharper rise still in terms of house prices in Spain – up to 4.5%. All this means that within the space of one year, house prices in Spain will experience one of the biggest price fluctuations (fall to rise) of Europe's main economies, from a 1.4% to a 4.5% rise.
Best time to invest in Spanish real estate?
Currently, the Spanish real-estate market went into the 'healing' phase of the real estate market at some locations. The properties in Barcelona were clearly having some 'air' in their prices, which is being let out now. While this is a painful process for some participants of the market, it definitely has a healing and positive long-term effect on the Spanish real estate market in general.
Our numbers show that Valencia, being undervalued compared to Barcelona or Madrid now is becoming more popular and is gaining momentum. Its close location to the seashore, strong transit and logistics industries, the Valencia Community size (5.5 million), which is larger than Barcelona (4.8 million) and a bit smaller than Madrids (6.6 million) make it a great place for entering Spanish market. With construction costs between 1000 and 1300 EUR/m2 and real estate selling price between 1400 and 1800 EUR/m2 we also don't see a bubble on the real-estate market that might still be present in some other countries.
Invest in Xirivella, our first spanish project
At the end of 2020, we published our first project from Spain offering an outstanding annual yield of 15.8%.
The key benefits of investing in this project are the fact that it will be fully developed and managed by the Reinvest24 team, in partnership with an experienced construction company – Kirsan Holding. Also, we see great potential in this property, as the demand for modern new apartments in the area is high due to low supply. It's an old city covered with historical buildings, leaving less room for new developments. The unfinished building will come at about 450 EUR/m2 and the average price for the sale of the new construction now is around 1400-1600 EUR/m2.
More information about this project is available here.