Swiss real estate market overview – a neutral or a sensational opportunity?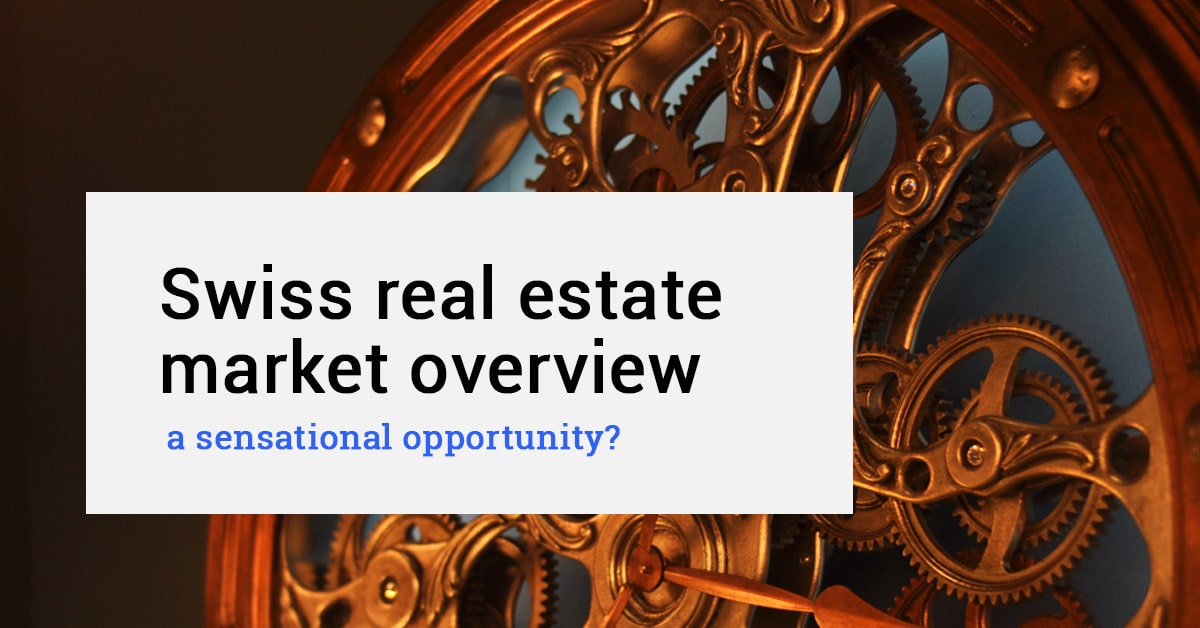 Reading Time:
5
minutes
A land of chocolate and watches, finest skiing resorts, and yodel? Say what you will, but years of neutrality and being home to the best banks in the world made Switzerland a golden playground. A place where the property is always coveted and investments come back. How do they do that?
Switzerland is geographically, politically & economically unique
While not being at the center of many important events, Switzerland has always remained a standard for all. It became one of the most influential industrial & commercial centers. Many high-end corporations & organizations look to the thriving Swiss cities as their headquarters. The country is considered one of the world's highest living standards.
Switzerland is administratively split into 26 cantons, and each of those areas has its ownership & renting rules. Depending on the canton, different investors & different properties adhere to various regulations. But the overall conditions are favourable for outside investing. Although the lion's share of the investors (85%) are Swiss, many acquisitions come from Britain, France, Germany, Canada and Belgium.
Switzerland stays a steadfast real estate bet despite the turmoil of economic & geopolitical events of the last years (including COVID, Brexit, and military conflicts). The integrated monetary growth is a great sign for real estate buyers, who can be confident that the Swiss economy will be stable for the foreseeable future.
The Swiss real estate market is unwavering!
Low-interest rates as the force of good
What are some of the main reasons for the real estate market stability, alongside the high employment rates? The real estate market situation is expected to remain consistent due to low-interest rates for mortgages. The Swiss central bank has its lowest value at -0.75% & fixed rates start at 0.5%.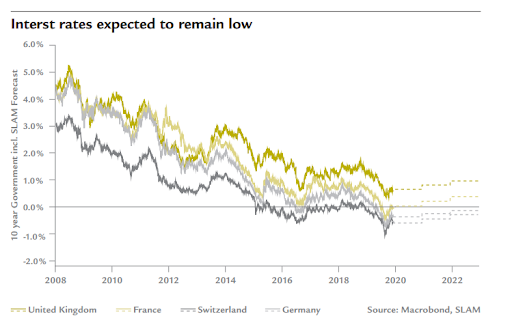 The real estate bubble is safe & sound
The risk of the real estate bubble has dropped. Switzerland has left its "risk" zone for the first time since 2012. The solid Swiss economy, understandably, can withstand many trials. The average income increases faster than mortgage debt, coming in above 2% last year.
Digitalization feels right & goes right
Digitalization is also a determining factor for the real estate market, impacting future projects. According to a recent survey by Real Investment Market Trend Barometer, 97% of the investors state that project developers will have to consider the requirements of smart infrastructure (connectivity, charging points for cars, and smart energy concepts). This is one of the biggest trends shaping the market. And the most significant path is BIM or building information modelling. This technology uses a three-dimensional model of building components and processes to improve construction work.
The Swiss market does fluctuate, but the impact is minimal
92% of the investors continue to regard Switzerland as an appealing or very appealing location for real estate investments in 2022. 8% of the investors involved in the Trend Barometer study believe that Switzerland's attractiveness as a business location will decline in the course of 2022.
68% of respondents expect investment volumes to stagnate at a high level in 2022. According to the survey participants, this can be explained primarily by the lack of investment opportunities and the economy's slow recovery.
The COVID–19 has actually strengthened the Swiss economy
As a direct consequence of the COVID-19 crisis and the lockdown, the number of both planning construction activity applications and issued building permits declined sharply in March and April. As an additional factor, the relevant authorities in the cantons of Geneva, Fribourg, Neuchâtel, Vaud, and Ticino, ceased publishing information on projected building activity at the peak of the pandemic. Therefore, the decline in the volume of planning applications and building permits was initially heavily exaggerated.
COVID-19 has only had a short-term impact on construction permits in the rental apartment market. While there was a 21% decline across Switzerland as a whole in the Q1 of 2020 compared to the previous quarter, much of this decline was reversed during the second quarter, with a recorded rise of 15%.
Given this backdrop, rental apartment investments remain attractive from an investor's perspective despite the further increases in vacancy rates.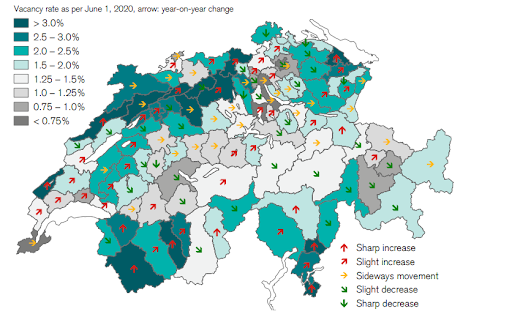 Generally speaking, a vacancy rate of roughly 5% is healthy for a country. In the central Swiss cities, this vacancy rate is far lower than the 1.66% quoted. The vacancy rate barely scrapes 0.46% in the five largest Swiss towns. That's why the rental prices have climbed in the major cities – lower vacancy rates equal higher demand for accommodation and higher rents.
Interestingly, the vacancy rates differ considerably between the major cities and the Swiss countryside. For instance, in the cantons of Thurgau and Solothurn, which the lack of supply had previously impacted, vacancy rates are now at an average of 3% – which is double the Swiss average.
The Swiss investors prefer apartment living & that's what they get
According to these stats from Crowdhouse, more than 60% of the population in Switzerland live in apartments. This means that the demand for apartments is one of the highest in Europe.
Currently, a mega-apartment project is underway in Geneva. Work began in March 2018 on a project to complete 1,000 apartments on an 11-hectare site in Vernier, near Geneva' airport. The complex will be like a "town within a town" and include hotels, clinics, commercial space, and housing 2,500 people. It is expected to be completed between 2021 and 2023.
Due to Switzerland's current urban living style, residential high-rise buildings are experiencing a renaissance. They seem to be the ideal product for enjoying the current lifestyle trends in Switzerland. Household sizes are decreasing due to high divorce rates, an ageing population, and a trend towards single living.
So, is Switzerland's real estate market a neutral or a brilliant investment opportunity?
Property in Switzerland is a wise investment at the moment. Although the cost of property in Switzerland is high, demand for rental properties is also assertive. Especially those located near major centers such as Basel, Zurich, and Geneva.
We asked the locals – here's what they think
"Switzerland has always been a safe haven for many international investors. It is due to its strong economy and possibility for foreigners to own property. In the pandemic, we see unbroken interest in housing. For the last two years, the developers have been more careful, resulting in a wider disparity between supply and demand. There is a strong need for platforms like ReInvest24 to close this gap".

Karl Schleifenbaum, Swiss local, PropTech investor
"The Swiss government tried to cool down the market for 15 years, so the real estate prices kept rising. Before the government attempted to control the situation, there was a long period of uninterrupted increases in property prices. It all led to an overheated market. But even after this process, the real estate market in Switzerland remains an attractive investment destination."

Peter Bachmann, Swiss local, Reinvest24 investor
Let us say it — Swiss investments are NEVER neutral & almost always positive.
Switzerland remains one of the most sought-after locations globally. It provides a high quality of life, excellent education, a favourable tax environment, and a high level of security.
Although it has a slow and steady real estate market (thanks to strict regulation), Swiss property performs very well as a long-term investment. Popular ski resorts such as Vaud and Valais are excellent rental zones and experience rapid property appreciation.
Switzerland has a low risk of political instability and it connects internationally very well. Consequently, and especially in the current political climate, a large expat community in Switzerland makes buying real estate easier for foreigners.