Update on the situation in Moldova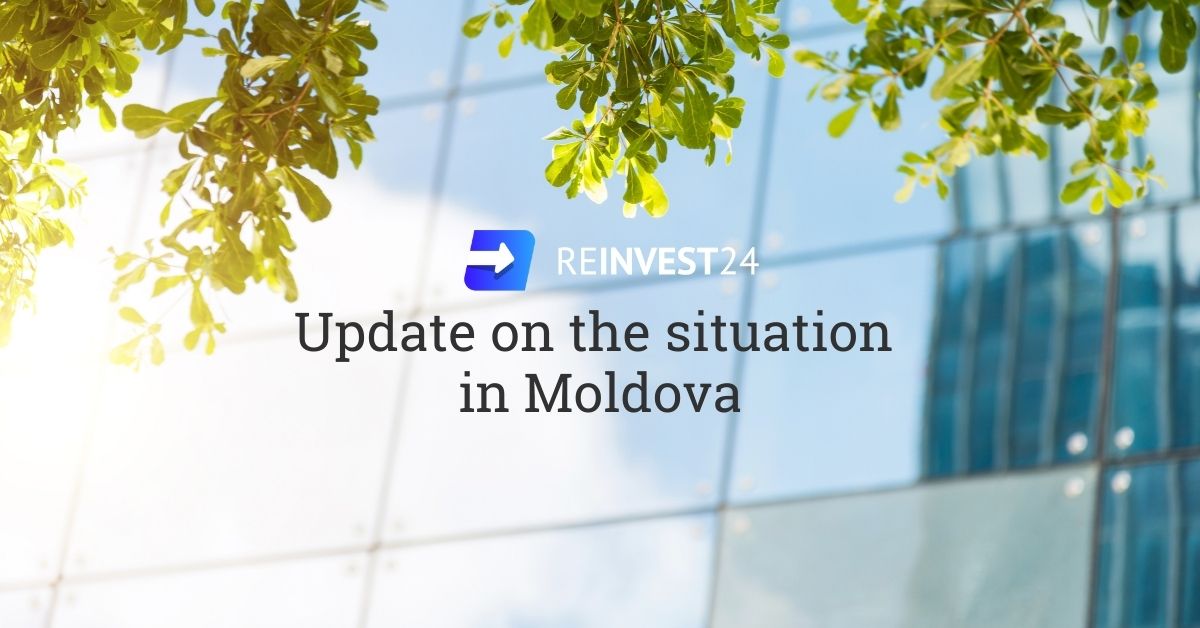 Reading Time:
3
minutes
The conservative approach of Reinvest24 towards its portfolio management proved its resilience many times, even during the most turbulent ones. In fact, during the pandemic, we successfully exited many projects, earning phenomenal profits, while maintaining a 0% default rate. We were always extremely transparent in terms of sharing details about our projects and their updates. And current times will not be an exception.
Even though we are not able to predict how current geopolitical events will proceed further, we feel extremely responsible to raise awareness among our investors about the situation in Moldova. And remind You once again how we at Reinvest24 make sure to stand and fall for your investments.
What is going on in Moldova?
Last week, the Transnistria authorities reported several explosions to happen on its land. The Moldovan authorities are keeping an eye on developments in this area and confirm that these actions make the region vulnerable. However, The president of Moldova Maia Sandu states that the government condemns any challenges and attempts to involve Moldova in any actions that may threaten peace throughout the country.
The management of the KIRSAN group responsibly declares:
"The situation in the Republic of Moldova is calm and working. The national currency is stable and even strengthening a bit. There is an influx of skilled labor. There are several factors which leads to that, for example, job cuts in Europe and the availability of vacancies in the domestic market."

– Sergiu Coman, Owner and CEO of KIRSAN
We are prepared for the worst-case scenario
When we were entering the Moldovan market, we evaluated different risks. Nevertheless, we are still confident about it at present time and do not oversee current events putting our investments in Chisinau at a higher risk.
"We are sure of the security of our Moldovan projects. In fact, I believe that any development of the current situation will be an excellent real-time test of our processes, teamwork and quality of our projects. As well as the platform itself. We are strong, united and ready to embrace any change. As we are sure we did our homework properly. "

– Tanel Orro, CEO at Reinvest24
Our portfolio update of the Moldovan region
As per our outstanding projects in this region, the majority are sold for 95-100%. To date, none of the buyers said that they would like to refuse the purchase and lose the prepayment. Kindly bear in mind that some project stages, such as Metropolis Business apartments, Metropolis 4D and 4A developments have been extended, due to the sales process slowing down. Investors will continue to earn promised interests and on top of that – an additional +1% interest for the extension period. The information about extended stages will follow in the upcoming days and weeks.
Apart from that, we continue to successfully exit our Moldovan projects, repaying back to our investors' principal amounts, together with profits. Recently exited project was Traian residential building stages 3-4, repaying back to investors 150.000 EUR.
How are my investments secured?
While real estate has always been considered one of the safest or low-risk investment classes, unfortunately, there is no such thing as a completely "safe" or "sure" investment. However, we at Reinvest24 always go the extra mile in terms of securing our properties and making sure the risks are mitigated as much as possible.
We want to make sure our investors at Reinvest24 understand all the processes!
In the case of the political situation escalating further, some projects might be delayed. An absolutely healthy delay is around 2 months. After this period, additional measures will be implemented, as agreed with the borrower. If during this time the project is not repaid, most likely, it will be considered defaulted. In this case, the collateral assets will be sold and investors' capital will still be returned. In a scenario, when the building itself gets damaged, the land will be sold, covering investors' capital. As it always possesses value. Overall, we see that targeting construction sites does not have any strategic value, as it's just a waste of expensive military equipment.
If You have any additional questions, please kindly do not hesitate to contact us via support(@)reinvest24.com