3 Lessons on how to grow wealth from the richest American ever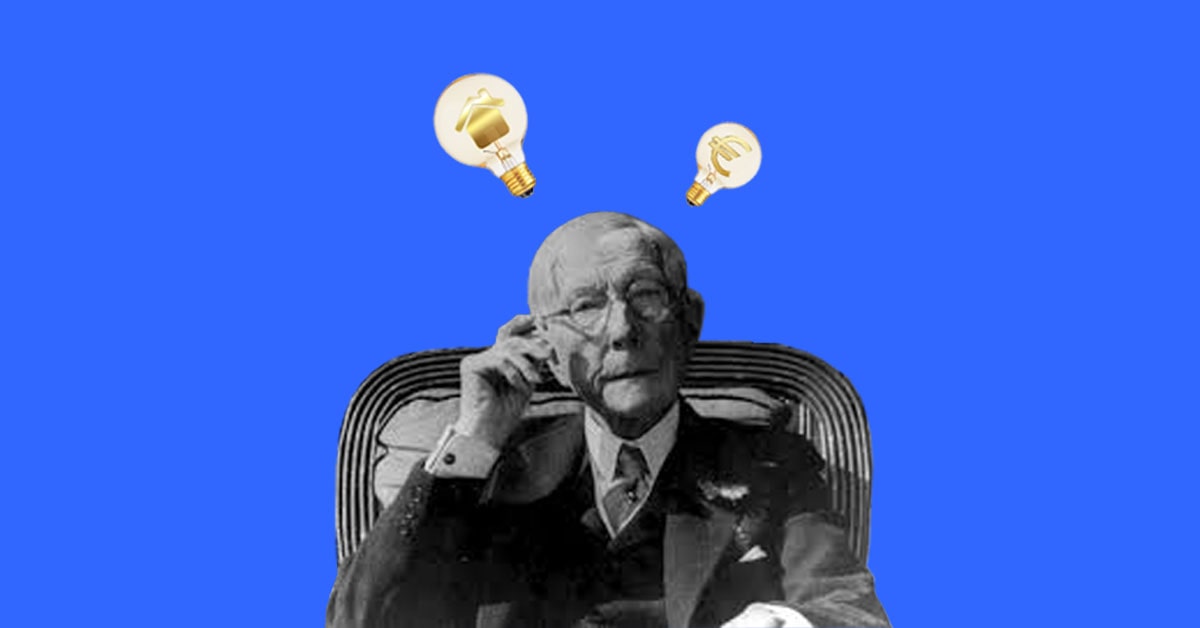 Reading Time:
4
minutes
181 years ago, on July 8th the pure legend of how to grow wealth was born – John D. Rockefeller (1839-1937). He founded the Standard Oil company in 18701, which is an "ancestor" of famous Oil giants such as BP Plc, ExxonMobil, and Chevron. In 1916 the entrepreneur was the first person ever whose nominal wealth has reached $ 1Bn ($ 23Bn in today's terms)2. As time passed his wealth grew making him the richest person ever in modern times. His wealth, adjusted for inflation, was somewhere between $ 300Bn to $ 400Bn. For comparison- the richest person today, Jeff Bezos has "only" $ 113Bn3.
Besides being a founder of Standard Oil company Mr Rockefeller was a real estate mogul. Allocating his wealth into real estate have created the necessary diversification and ensured the stable dividends from his investments.
Now let's see what we can learn from a legend:
1. Buy & Hold
The Buy & Hold approach to owning assets is key to the success of the founder of Rockefeller dynasty.
The Standard Oil company was founded by John D. Rockefeller together with his brother William and a few others. Unlike John, William didn't hold on his stock and sold his share ($50,000 back then) in order to finance the construction of his home, instead of taking out a mortgage. John, on the other hand, decided to hold on, which eventually made him the first dollar billionaire. 4
John D. Rockefeller has always praised the real estate as an investment because the "time is on your side" with real estate, unlike with other investment classes. Real estate investing can be acquired even when you are in doubt, and you can hold on to it for as long as you want.
Furthermore, in 1911 the US Supreme Court started a legal case against Standard Oil company accusing it of building a monopoly. This is when the second time the "Buy & Hold" approach has rewarded John D. Rockefeller. Standard Oil has lost this case, thus deciding to split the company and to create 33 independent subsidiaries.
This has benefited Standard Oil immensely, boosting the wealth of the John D. Rockefeller, who held one-quarter of shares in the "old" Standard Oil trust and one-quarter of the "new" Standard Oil, plus the created subsidiaries. When the legal case was unfolding, the Standard Oil founder didn't lose his calm and never rushed selling the shares, rewarding him eventually.
Lesson 1: speculation and panic are not correct when you are in doubt and don't know how the investments will play out. When in doubt, real estate investing is the right asset class to allocate your money into, but also a great diversification tool. You can hold for it for a very long time.
2. Real Estate is Tangible
"The major fortunes in America have been made in land."
-John D. Rockefeller
Unlike other investment assets such as stocks and bonds, land and real estate are tangible resources. The oil tycoon knew the real meaning of this phrase, as he built his wealth on land.
Rockefeller has assembled the land for oil production and benefited from the rising demand for petrol. Of course, this is a unique opportunity, which doesn't appear very often. However, it is important to learn from John D. Rockefeller on how he preserved his wealth- by investing in real estate. He managed to preserve his wealth, which lasts for several generations already. Almost 37% of the total portfolio of the Rockefeller family consisted of real estate investments5.
The core business of John D. Rockefeller was oil, and the price of oil as we all know is very volatile. If he didn't diversify his wealth into real estate, he would probably suffer many losses. The price of real estate, on the other hand, is less volatile.
Lesson 2: When building a well-diversified investment portfolio, or looking for a stable income and dividends, make sure you include real estate assets in your portfolio. Unlike a century ago (REITs were created only in 1960) now you don't need to allocate large capital in order to benefit from real estate investment opportunities.
You might wonder, how can you invest in real estate with little money? Don't worry, thanks to the crowdfunding, you can too benefit from the real estate investment opportunities. It is 2020, so now anyone can become an investor in real estate – Reinvest24 has got you covered and you can start investing with as little as 50 euros. Take a look at the list of our online investment opportunities here.
3. Don't give up during the crisis
How did John D. Rockefeller come to power? He saw an opportunity during the crisis. The 1873 and the six consecutive years after that were difficult for the US economy. The stock market has closed temporarily and the oil cost less than water in some places. Mr Rockefeller used that crisis to buy out competitors6.
Besides that, the world-famous Rockefeller Center, and the major tourist attraction of the Big Apple was built during the economic downturn- the Great Depression. The son of the first American billionaire John D. Rockefeller Junior has financed the construction during dark times between 1931-19407, the building at 30 Rockefeller Plaza, is the symbol of economic success, and have changed the image of Manhattan forever. Until today this is famous and demanded commercial real estate.
Lesson 3: Don't lose hope during the economic downturn, this is also a time of an opportunity. Make sure you keep building your wealth even during the crisis but make sure to diversify and choose assets with a long-term appreciation perspective. Real estate is a tangible and durable asset, which helps to invest for the future.

You may be interested as well in reading this article Don't let a good crisis go to waste.
Bottom line
John D. Rockefeller was living during the times when you could build the wealth on oil. Now, we are living during the time when the financial technologies open up opportunities in alternative investing. You can use the wisdom of the richest person and apply it to online investments by building your stable diversified investment portfolio.